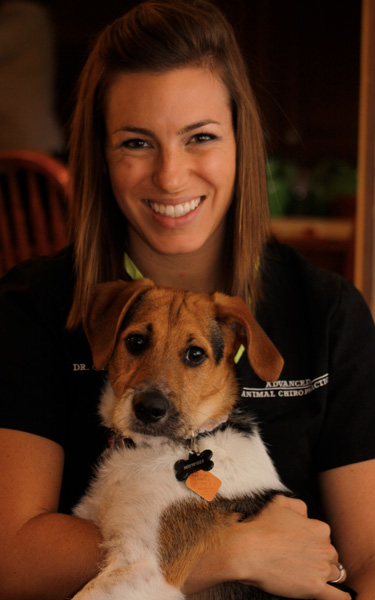 Dr. Christina Cole
Animal Chiropractor, Advanced Animal Chiropractic Owner
You may be thinking…"a chiropractor working on animals? Now that's not something you hear about everyday", and you'd be correct. Dr. Christina is a licensed human chiropractor, certified by the International Veterinary Chiropractic Association (IVCA) to work on animals. She attended the University of Michigan for her undergraduate program, followed by Life University in Atlanta for her doctorate, and finally attended Options for Animals College of Chiropractic in Kansas to certify in animal chiropractic. Dr. Christina finds that helping those unable to help themselves is one of the most rewarding experiences in this life.  She chose this career simply because her passion for animals is her driving force, and she knew this was a field that needed to grow. Those certified in animal chiropractic are limited, and only a handful of professionals actively practice in Michigan.
Growing up in Southeastern Michigan, she was able to spend much of her childhood volunteering with the Michigan Animal Adoption Network (MAAN), a group her father co-founded. Her family has always been filled with four-legged members and currently includes three cats, Sammy, Snickers, and Tootsie, as well as three rescue pups, Mowgli, Pongo, Gizmo and Rudy. She's a die-hard Detroit Lions, Tigers, and Michigan Wolverines fan, thus proving her dedication in times of hopelessness. Dr. Christina is an active volunteer for O.A.T.S (Offering Alternative Therapy with Smiles) in Ortonville, Michigan, where she adjusts the 20 therapy horses  in order to keep them as healthy and comfortable as possible. She also serves as a member of the board of directors for RichMar Equine Retirement and donates her services to various rescue animals in order to enrich the lives of those not yet fortunate enough to have found a forever family. She has returned to the Oakland County Area and will be working hand in hand with various veterinarians to bring animal chiropractic and alternative health care for animals to the metro Detroit area.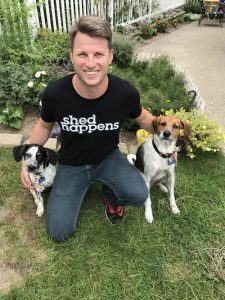 Dr. Grant Tully is a licensed human chiropractor certified in animal chiropractic via the IVCA (International Veterinary Chiropractic Association). He is a Florida native that has learned to love the Michigan winters thanks to their beautiful summers. Throughout his childhood, Dr. Grant was always very active and played soccer at the collegiate level. Being an athlete exposed him to several injuries, which in turn brought him to the chiropractor. Chiropractic care helped him recover faster and he felt he could perform at an optimum due to his adjustments.
During his years at Auburn University, Dr. Grant began to realize that chiropractic might be the perfect career as it combined his passion for healing with his love of science. At Auburn he majored in Biomedical Science and then received his Doctorate of Chiropractic from Life University in Atlanta, where he also met Dr. Christina. Her love of animals quickly rubbed off on him as well as her love of the mitten state. After a brief stint in human practice where he focused on neurological deficits, he decided to join Dr. Christina in practice and instead focus on animals. He attended the same post-doctorate program as Dr. Christina in Kansas called Options for Animals College of Animal Chiropractic.
Dr. Grant is now back in the great state of Michigan and practicing throughout the Southeastern part of the state. He works on both large and small animal and can be found at various clinics. His fur family currently includes his dog Mowgli, Pongo, Tootsie Pop the kitty, and new additions on the horizon. He is a sports enthusiast, to say the least, and enjoys watching the Atlanta Braves, Auburn Tigers, and is even learning what it is like to be a Detroit Lions fan (poor him).