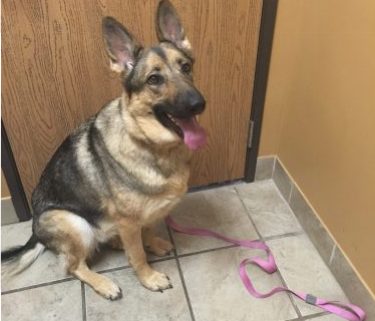 Miss Sasha here is a beautiful German Shepherd that tore her cruciate ligament earlier this year. It was a pretty severe tear that left her hobbling and wobbly. Despite this she was a hard girl to keep down, so much so that it would've been very difficult to rehabilitate her knee without considering the surgical option. Her fur family looked at all the options and decided to attack the cruciate tear with a combined approach of conventional and alternative methods.
Sasha went to one of the best knee surgeons around to work on her cruciate and the surgery went very smoothly. Even the day after surgery she was moving like a dog that had had weeks of healing under her belt. Leading up to the surgery she continued to get adjusted, and one week after her surgery she started up again. We were most concerned with keeping her lower back and her other hip as stable and mobile as possible. With her limping around like a champ so quickly, it was even more important that these joints be stabilized.
Throughout her time, Sasha has astounded everyone she meets. It has now been about four months and Sasha is 100% back to herself, if not even better than before. She runs, she can jump, she plays, and she wrangles with her fur family. You would never know this girl had to undergo knee surgery and we attribute her fast recovery to the combination of chiropractic, conventional treatment, and a very knowledgeable fur family that helped her rehabilitate at home. She is such a blessing to us and we have been so thrilled with her progress during her journey, she now continues to come in and get adjusted to maintain all the hard work and effort everyone has put in. You go Sasha Bear!
http://advanimalchiro.daveminotti.com/wp-content/uploads/2016/09/SashaBarron-e1473718448307.jpg
499
375
Dr. Christina Cole
http://advancedanimalchiro.daveminotti.com/wp-content/uploads/2014/09/AAC-BW.png
Dr. Christina Cole
2016-09-12 22:15:00
2016-09-12 22:15:00
Sasha the Shepherd and her Cruciate Tear