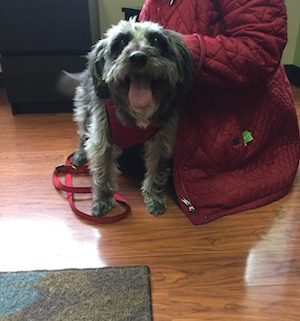 Becca here is pretty much one of the most adorable rescue pups we have ever seen. She has captured the hearts of all those who come across her shaggy self and she'll pretty much do anything for some extra cuddles. Becca started coming to us because she had been limping terribly on her front leg for no apparent reason. Come to find out she had also be a victim of several seizures and bad ear infections.
Now if you've read any of our articles regarding chiropractic and how it can provide relief for ear infections and even seizures, you might wonder if these also improved when she started to get adjusted. Not only did all of her issues improve, but the limping also disappeared and the seizures haven't happened in almost nine months, the only change being the added regular chiropractic care. Becca does not take any medication for seizures, she is not on anything for her ears, and her limping is completely gone.
She is a very active pup with her sister Abby, and she certainly loves her long walks at the outdoor mall. Her mom never dreamed that something as simple as getting her adjusted would provide such relief to some seriously long-term problems. Now when Becca's ears appear to flare up or her gait seems a little off, her mom calls and gets her in before it becomes a more chronic problem. Becca's health is maintained in an alternative manner and we are elated that her fur mom has such faith in this eastern approach to health!
http://advanimalchiro.daveminotti.com/wp-content/uploads/2017/02/BeccaRadke-1.jpg
400
300
Dr. Christina Cole
http://advancedanimalchiro.daveminotti.com/wp-content/uploads/2014/09/AAC-BW.png
Dr. Christina Cole
2017-02-05 03:52:40
2017-02-05 03:52:40
Becca and her Seizure Resolution