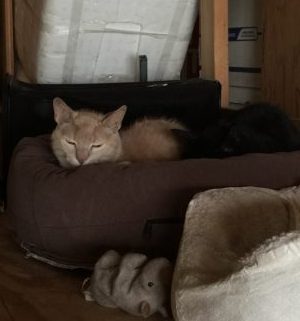 Scooter is not only handsome but also sassy. You may not notice him at first glance but he's the dark shadow snuggled up to his brother Rocket. This 22-year-old boy has been around the majority of our lifetime and he doesn't look a day over 18! It's hard to believe he could legally drink in human years…and makes us happy to see what good nutrition and lots of love can do for our pets.
Our buddy Scooter was dealing with a serious problem…one that needed to resolve or he could be in serious trouble. Scooter couldn't go potty. He would strain and strain and yet nothing would come of it. He was beginning to show signs of pain from being constipated, and no matter how many supplements he was given, this boy just couldn't get the job done on a regular basis. Since his nutrition and everything else checked out, we figured trying chiropractic couldn't hurt as well.
Well we couldn't be happier that we did. Within a couple of hours of Scooter's first adjustment he was able to have a solid poop without straining. This pattern has continued since the first adjustment, and he's been able to hold them for much longer than before. Scooter gets adjusted once each month and that seems to be about as long as he can go before his sacral nerves start slowing down in their response time. With each adjustment, we get the happiest reports of good poops for weeks to come. So happy we can help make this seniors day a little easier!
http://advanimalchiro.daveminotti.com/wp-content/uploads/2017/09/RocketZoeyKasl-e1505171937448.jpg
400
300
Dr. Christina Cole
http://advancedanimalchiro.daveminotti.com/wp-content/uploads/2014/09/AAC-BW.png
Dr. Christina Cole
2017-09-11 23:20:53
2017-09-11 23:20:53
Scooter and his Constant Constipation!