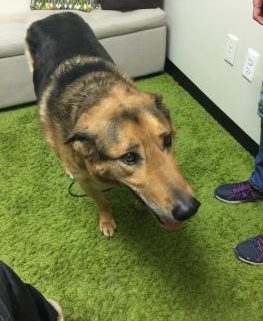 Check out Gordon! He is a rescued shepherd that caught our hearts the moment we met him. He is an absolute Velcro dog and thinks he is only ten pounds. When Gordon started limping horribly, his fur mom was very concerned. It got to the point where within a few days Gordon wasn't weight bearing hardly at all in his one front leg. His limp was horrible and he wasn't getting up without help and didn't come to greet mom at the door when she came home. The veterinarian couldn't tell what was wrong and said they'd need an MRI and possibly surgery.
Not wanting to go that route unless there were no other options, Gordon's mom gave us a call first. Gordon waltzed in non weight bearing on the one front leg and was in complete spasm throughout his neck. Upon further investigation, Gordon had always been a big puller on his lead. This had lead to a significant pinched nerve at the base of his neck.
After his first adjustment, Gordon began to weight bear about fifty percent of the time. Within three adjustments Gordon's gait had completely resolved and he wasn't limping any longer. He was getting up and greeting mom at the door and even running on his walks. His energy was back and overall he felt amazing again. All of this without ever having to go under the knife! Sometimes the simplest solutions are the ones we tend to ignore, we are so glad Gordon's mom didn't!
To watch a before and after video of Gordon- click here!
http://advanimalchiro.daveminotti.com/wp-content/uploads/2017/06/GordonMarchant-e1496279956765.jpg
350
263
Dr. Christina Cole
http://advancedanimalchiro.daveminotti.com/wp-content/uploads/2014/09/AAC-BW.png
Dr. Christina Cole
2017-06-01 01:21:34
2017-06-01 01:21:34
Gordon the Shepherd and his Pinched Nerve