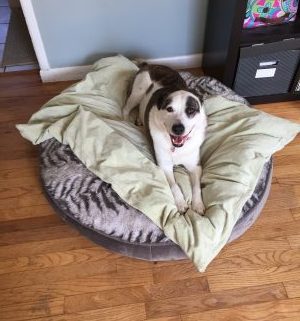 Meet Lottie! This little lady had a total cruciate tear in her back leg that was causing her some serious trouble. She wasn't able to put weight down on her injured leg and she hobbled around as if nothing was wrong. She was quickly diagnosed with a cruciate tear and was told she would need surgery to fix the issue. Having experience with alternate therapies herself, her fur mom decided she'd rather give chiropractic a try to see if that might be the answer.
After just three visits Lottie was already putting her leg down and using it to motor around the house. Though she continued to toe-tap, she was clearly on the mend. As she grew stronger and her muscle tone improved, Lottie was able to use her leg more confidently. By the end of 6 visits Lottie was nearly 100%.
Lottie loves to walk and play, and when surgery was first suggested she was told these things would not be options for several months. Knowing her pup would not be able to sit still for that extended period of time lead her mom to research alternative options. Lottie was able to live a fairly normal life during her healing period, and within two months she was good as new. Yay Lottie!
Check out her before and after videos here!
http://advanimalchiro.daveminotti.com/wp-content/uploads/2018/03/LottieKrawczak-e1520895791218.jpg
400
300
Dr. Christina Cole
http://advancedanimalchiro.daveminotti.com/wp-content/uploads/2014/09/AAC-BW.png
Dr. Christina Cole
2018-03-12 23:09:55
2018-03-12 23:15:46
Lottie and her Cruciate Ligament Tear