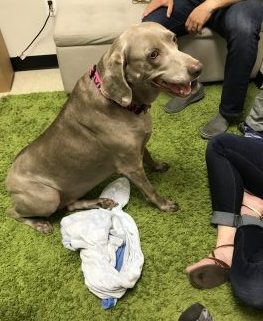 Annie the sweet weim was always a healthy girl. She was active, happy, and never had any real health problems until she hit about nine years old. Suddenly she lost function in her back legs and things were looking quite bleak. Her fur dad sees a chiropractor himself and when he made mention of the issues his sweet girl was having, his chiropractor recommended a visit for Annie as well. Because of that referral, Annie has a new lease at life.
Annie came to see us one night and she had very little control of her hind end. She had to be helped up and supported underneath her backside in order to move forward. It was as if her back end and her brain were not communicating, or more accurately it was like her brain was speaking English when her back end only spoke German. Though Annie did have feeling in her back paws, once again her conventional options were limited.
Annie was probably one of the closest things to a miracle dog we have ever seen. Larger dogs struggling with paralysis often have a much harder time regaining function than small dogs simply because of size. Carrying around a much larger load makes it difficult to exercise without causing too much damage. Annie, however, defied the odds and within one week of her first adjustment was back up and walking with no added support. After two adjustments Annie was back to her normal self. It's hard to believe she went from paralyzed to walking in less than one week without any medications or surgery. Check out her before and after video to watch Annie's progress.
http://advanimalchiro.daveminotti.com/wp-content/uploads/2017/08/AnnieJabara-e1502736261311.jpg
350
263
Dr. Christina Cole
http://advancedanimalchiro.daveminotti.com/wp-content/uploads/2014/09/AAC-BW.png
Dr. Christina Cole
2017-08-14 18:46:22
2017-08-14 18:46:22
Annie's Partial Paralysis Reversal