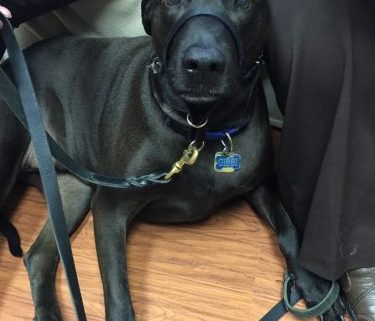 Gibbi girl here is an adorable love. She is loving and kind, and when her fur mom noticed she was in severe back pain she knew something was wrong. Gibbi was hunched up, would cry when touched, and would move her backside away from you the minute you tried to pet her. She cried and yelped and was not herself whatsoever, her back pain was altering her mood and her actions.
At her first adjustment Gibbi was tentative, nervous, and clearly incredibly uncomfortable. Her skin twitched every time she was touched and her tail was tucked so far between her legs. You could actually see the pain on her face. Gibbi also deals with significant anxiety, and she is attached to her fur parents. Keeping all of this in mind, on her first visit we were careful to only push Gibbi a certain amount. When animals are in that severe of pain, whether back or neck, it is important to leave them with a great experience and not cause them any more discomfort.
After her first adjustment Gibbi was already showing serious signs of improvement. Though still nervous and painful, she was walking smoothly, the sensitivity was down, and she didn't have her tail tucked quite as far. After several adjustments, Gibbi had returned to her normal self, and even improved upon the original. She was feeling so great that our girl was actually calm during a thunderstorm and fireworks, something she had always struggled with. Now when we see Gibbi, she greets us happily, wagging her tail and actually coming up to us to get petted. She's happy as a clam and completely pain free thanks to her fur moms instinct that something wasn't right!
http://advanimalchiro.daveminotti.com/wp-content/uploads/2017/03/GibbiGibson-e1488760276835.jpg
500
375
Dr. Christina Cole
http://advancedanimalchiro.daveminotti.com/wp-content/uploads/2014/09/AAC-BW.png
Dr. Christina Cole
2017-03-06 00:34:06
2017-03-06 00:34:06
Gibbi the Lab with Severe Back Pain