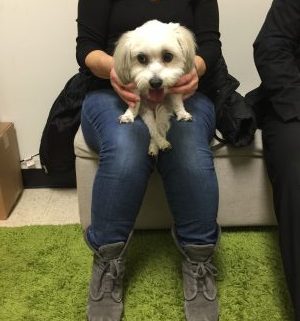 Meet Maddie. This little spitfire came to us with little to no function in her back legs. It had happened suddenly and without warning. Fortunately for Maddie, her family had dealt with a similar situation with their other dog a few years prior. When they were told her only options were surgery or euthanasia, they disagreed heartily. The same had been presented for their other dog years before and they opted to do what they could without surgery and make her as comfortable as possible. Lucky for their other pup, they had the wherewithal to do water therapy and physical therapy daily. The dog regained her footing and never went under the knife.
When a similar situation happened to Maddie, they were prepared for the bad news from the conventional doctor and were ready to defy expectations again. This time around they also added in chiropractic to Maddie's healing process. Maddie was in significant discomfort, and she desperately wanted to walk, but her poor little legs just wouldn't function. She had a serious disc bulge that may have even ruptured. From the outsider things didn't look good, however, her family had hope.
Maddie underwent chiropractic care for approximately one month, and in that month she went from immobile to walking and running like a champ. Between her daily physical therapy and her adjustments, Maddie has regained full function and her family couldn't be happier. We love this little lady and are so happy to see her kicking puppy butt in all walks of life! Watch her before and after video below to see her amazing progress.
http://advanimalchiro.daveminotti.com/wp-content/uploads/2017/07/MaddyAndreou-e1500245547193.jpg
400
300
Dr. Christina Cole
http://advancedanimalchiro.daveminotti.com/wp-content/uploads/2014/09/AAC-BW.png
Dr. Christina Cole
2017-07-16 22:54:05
2017-07-16 22:54:05
Maddie's Paws Made for Walking!