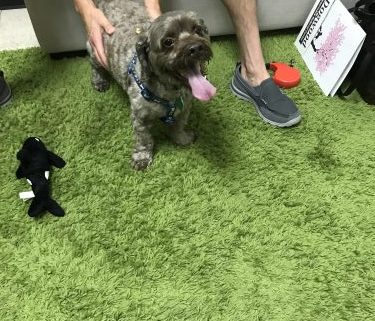 Say hi to Louie! This handsome cocker had back surgery a few years ago when he had paralysis in his back end. He went through two months of rehabilitation and was finally up and walking again. Since then he has always had somewhat of a drunkard walk and within the last several months had been having frequent episodes of slipping, knuckling under, spasm, and near immobility in his back end. He was diagnosed with neurological issues but there was no reason as to why or what could be done. Concerned for the worst, his parents decided to look into more  options to help this young buck out.
Louie was like a new man after his first adjustment. He was walking straighter, his walk seemed to stabilize and he had so much more energy. His progress was amazing and the neurological problems began to subside faster than anyone had hoped. The episodes became fewer and fewer and then got to the point where he wasn't having them at all. He wasn't in any pain and had truly returned to his pre-surgery self. 
With Louie we've found that his body responds well to monthly maintenance visits. The one time we extended this, Louie had a minor few episodes. Upon returning to his normal schedule, he's been right as rain. Louie is a perfect example of how the body has to compensate after surgery. Though the surgery itself removed pressure on the spinal cord, years later the joints above and below had to make up for the one having been operated on. These in turn began putting pressure on the cord and causing him to have similar episodes to his first bout of paralysis. Now Louie has found something that works for him, he is medication free, and is truly a remarkable man!
http://advanimalchiro.daveminotti.com/wp-content/uploads/2018/05/LouieSchaffer-e1526341803163.jpg
500
375
Dr. Christina Cole
http://advancedanimalchiro.daveminotti.com/wp-content/uploads/2014/09/AAC-BW.png
Dr. Christina Cole
2018-05-14 23:50:49
2018-05-14 23:50:49
Louie with Neurological Issues