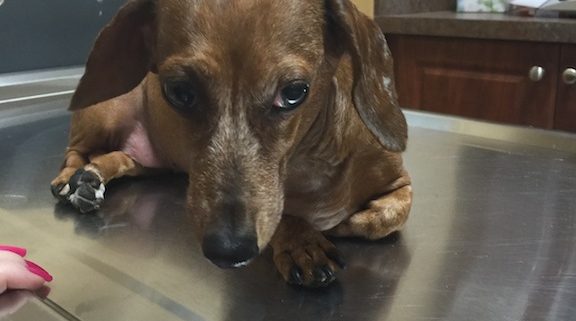 Heidi here is one of our walking miracles. We say this because she had paralysis in both her front and back limbs. Heidi was fine one minute and the next her fur mom went to go let her in from outside and she couldn't move. There was no rhyme or reason, no injury, no accident, just a little dachschund that could no longer stand up. After immediately rushing to the vet there was little that could be discerned other than a likely ruptured disc, a tumor, or something attacking her spinal cord. After running a myriad of tests there was still no definitive answer, and with that the veterinarian suggested trying chiropractic. He knew the importance of spinal alignment for the nervous system function, and realized that the reason a disc may have burst could easily have been from misalignment and lead to the paralysis.
At her first adjustment Heidi could hardly drag herself along. She couldn't maintain a stand when put into the position, and her limbs were all fairly flaccid. Heidi was in severe pain in her neck and in her lower midback. Both areas were fixated and she had little to no spinal movement. She adjusted well and was sent home knowing this was going to be a long road. Well Heidi didn't like that plan, she decided she didn't like being an invalid. By the next weeks adjustment Heidi was walking. Though the gait was unsteady, she was actually lifting herself up and walking throughout the front lobby.
After her second adjustment she started running and her walking gait steadied. By her fourth visit Heidi was jumping again. You would never know this was the same girl that we had seen just one month prior. Heidi defied all odds and she continues to maintain her spinal alignment with monthly adjustments. We are ecstatic that she came so far so quickly, something that is certainly not the norm. The importance of alignment is shown clearly in her case. When joints don't move properly, the discs become the victims and can easily bulge. A bulging disc can overtime turn into a herniated one, and a herniated one can easily become ruptured. The best thing fur parents can do is to make sure their babies get checked up now and again to ensure spinal alignment is good to go. Heidi here is a prime example!
http://advanimalchiro.daveminotti.com/wp-content/uploads/2016/10/HeidiGross.jpg
768
576
Dr. Christina Cole
http://advancedanimalchiro.daveminotti.com/wp-content/uploads/2014/09/AAC-BW.png
Dr. Christina Cole
2016-10-26 18:26:42
2016-10-26 18:26:42
Heidi's Paralysis