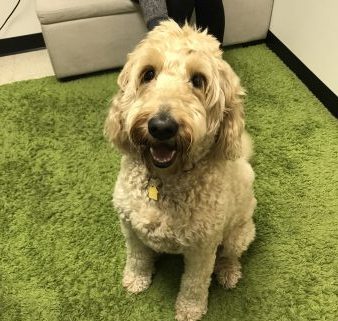 Whoa Nellie…that's what this girl was probably told before she injured her back leg. Nellie came up lame after some hard play, though there was no specific injury that could really be linked to the issue. This is not uncommon at all when it comes to cruciate tears. More often than not, these ligaments weaken over time and slowly start to wear over many months. At that point it doesn't take much to either fully tear or partially tear a now unstable knee. This is exactly what happened to sweet Nellie.
Nellie's folks were told she would require surgery to fix the knee and that it would not heal on its own. They were slightly skeptical and when Nellie's best bud Moya had had a similar injury that was healing up nicely using chiropractic, it seemed like a no brainer to try an alternative first. Nellie was an absolute rockstar at her first adjustment and it didn't look like she would need to go the conventional route.
Within days of her first few visits Nellie was already walking better. Her lameness quickly subsided and only pops up occasionally after some heavy duty activity. Eventually this will stop as well, it just takes a little extra time to fully heal inside that joint. Similar to a heavy workout at the gym, soreness is to be expected, but not long lasting. Sweet Nellie is a perfect example of why trying an alternative route before going the surgical route can't hurt!
http://advanimalchiro.daveminotti.com/wp-content/uploads/2017/08/NellieCassise-e1503870684307.jpg
450
338
Dr. Christina Cole
http://advancedanimalchiro.daveminotti.com/wp-content/uploads/2014/09/AAC-BW.png
Dr. Christina Cole
2017-08-27 21:52:49
2017-08-27 21:52:49
Nellie and her Cruciate Tear