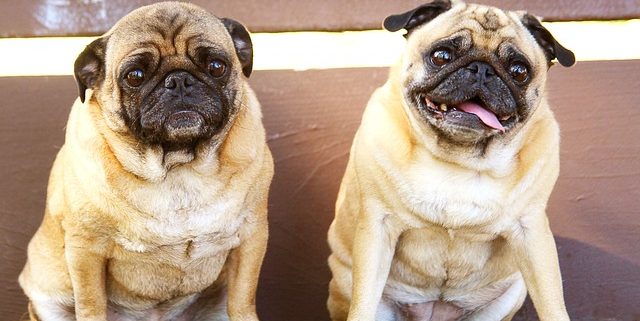 Is puppy sitting a bad thing? Well for starters YOU should NEVER sit on a puppy. But that's not what we're talking about! No we are talking about the way your little pooch pie sits!
Is there anything more adorable than a puppy? Sure, they may eat your shoes and stain your carpet yellow – but they are still cute. Even the way they sit captivates you and your friends. However, puppy sitting (also known as sloppy sitting or the lazy sit) can indicate a problem for dogs after one- two years of age. Why is this? Find out below.
Normal sitting vs puppy sitting
                  Dogs after the first two years should sit up straight with their body directly over their hips. This is considered normal sitting. If a dog is sitting with their hind legs sideways, rather than under the hips, it is considered puppy sitting or sloppy sitting. This isn't as big of a problem when dogs are young because their ligaments are very lax. However, older dogs should be more stable and sitting this way can indicate numerous problems.
What problems might be related?
                  There are numerous potential conditions that may be related to abnormal sitting posture. They are:
Hip problems – This includes potential items such as hip dysplasia, hip arthritis, or anything else that causes an inflammatory response in the joint.
Knee pain – This could be the result of something as serious as a torn cruciate ligament or something more chronic in nature as a luxating patella.
Back pain – Back pain may be the result of altered biomechanics, which would affect the joints involved in sitting.
Problems with the anal glands and other inflammatory issues related to the hind end may also contribute.
What can we do?
                  If the issue is biomechanical, such as hip, knee, or back issues than a good treatment option includes animal chiropractic. The goal of chiropractic care is to restore normal alignment to abnormal joints using very gentle, specific corrections known as adjustments. These adjustments will help restore normal motion and help your pet sit comfortably. There are other potential causes though, and it may be worth a visit to your primary care vet.
So, is puppy sitting a bad thing? The answer to that is no – if your dog is still a puppy. However, abnormal sitting can indicate multiple other issues such as hip, knee, or back problems. There are options, however. Animal chiropractic via a certified veterinarian or chiropractor will help the biomechanical problems. A routine visit to your primary care vet can help rule out other issues. To sum things up, your puppy is cute but the way he sits isn't after the first 2 years of development!
http://advanimalchiro.daveminotti.com/wp-content/uploads/2017/07/maxpixel.freegreatpicture.com-Buddies-Pet-Canine-Pugs-Sitting-Dog-Bench-2319433.jpg
471
640
Dr. Christina Cole
http://advancedanimalchiro.daveminotti.com/wp-content/uploads/2014/09/AAC-BW.png
Dr. Christina Cole
2017-07-06 00:07:31
2017-07-06 00:07:31
Why Puppy Sitting is only Acceptable in Puppies!