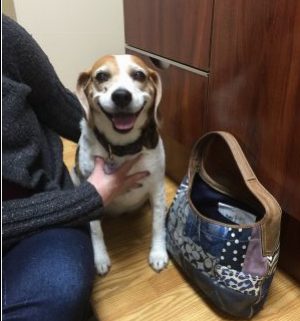 Sorella the beagle has dealt with back pain, bladder issues, and skeletal problems. She came to us originally to work on her bladder problems but found that chiropractic was more or less protective for her. This little girl is the sister to Sofia, someone you've met before. She is considered a "senior" dog but her mannerisms are anything but. Sorella is an absolute love, she has spunk and loves to get into all sorts of beagle mischief. Several years back, she stupefied her veterinarians when she practically walked out of having back surgery, and within a day or two was running. No one believed how a dog that in all reality shouldn't have been able to walk, was acting as if she had just woken up from a routine teeth cleaning.
Sorella has defied all odds when it comes to her spinal health. With a speedy recovery after having back surgery (something that rarely, if ever, occurs), she went back to her old beagle ways. Most recently, her fur mama had noticed she was getting an extreme number of urinary tract infections. Unsure of what to do, her fur mama consulted her human mama who suggested bringing her in to get adjusted. Sorella's pelvis was notably fixated and her gait was not nearly as smooth as it could be. Though she wasn't showing signs of back pain, her body was giving slight signals that she was a little off in her low back as well.
After Sorella's first few treatments, she was like a puppy again. She was getting into trouble she hadn't in years and getting away with it! She's had a few instances where an ear infection has been avoided or shortened because she gets adjusted. On one particular instance, Sorella began limping and crying for no particular reason. After checking her out, her front right shoulder and elbow were completely locked. Moments after her adjustment she was already feeling 85% better. Her fur mama knows the importance of keeping this girls spine protected, and we see her regularly for check-ups. Watching Sorella become a puppy again has given us the greatest joy, and seeing our favorite beagle sisters come into the clinic brings happiness to our hearts!
http://advanimalchiro.daveminotti.com/wp-content/uploads/2016/09/SorellaGuccini-e1474836013476.jpg
399
300
Dr. Christina Cole
http://advancedanimalchiro.daveminotti.com/wp-content/uploads/2014/09/AAC-BW.png
Dr. Christina Cole
2016-09-25 20:46:16
2016-09-25 20:46:16
Sorella the Beagle and Protective Care