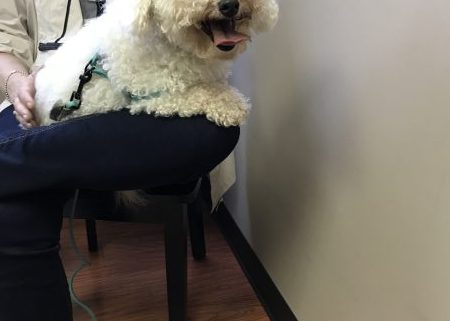 Meet Lucy! Lucy is a senior Bichon that started coming to see us because she was dragging her back legs and had some significant arthritis. Though she was older, her mom knew it didn't make sense for her to be in so much pain. Lucy walked as if she was a little drunk and her back legs crossed over one another from time to time. This was also concerning for her mom, as it seemed like she was showing symptoms of something more serious than arthritis.
After meeting Lucy and giving her a once over, she definitely was exhibiting symptoms of a pinched nerve, possibly even a minor disc bulge. She was uncomfortable and lower energy. Lucy did great getting adjusted and her mom was perfect at following her treatment plan. We first saw Lucy twice a month until she was out of pain (which took about two visits!), after that we started seeing Lucy less frequently as her adjustments were holding. Now, we see Lucy about every 6-8 weeks depending on her activity level.
After seeing Lucy this last visit, her mom told us that she is now doing stairs again and jumping on furniture, both things she has not done for over two years. She also doesn't have any pain, her legs don't drag, and she hasn't tripped over herself since coming to get adjusted. Lucy was showing signs of the beginning stages of a disc problem, which can become quite serious. Her mom was proactive in getting her adjusted and now Lucy has more energy than she did two years ago. Pets are truly wonderful at hiding their pain and discomfort, so it's always a good idea to get them checked out for prevention's sake!
http://advanimalchiro.daveminotti.com/wp-content/uploads/2018/04/LucyTyler-e1523903527377.jpg
600
450
Dr. Christina Cole
http://advancedanimalchiro.daveminotti.com/wp-content/uploads/2014/09/AAC-BW.png
Dr. Christina Cole
2018-04-16 18:34:29
2018-04-16 18:34:29
Lucy with Arthritis and a Drunken Walk