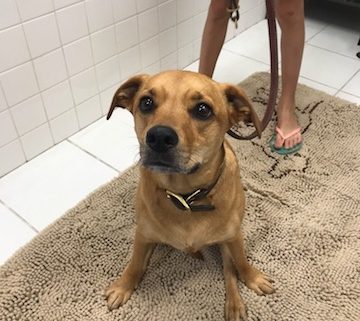 Meet Sky! This perfect little munchkin was fine one minute and shortly thereafter she couldn't use her back legs or her front legs. She was dragging herself around and seemed to be in significant pain. After a visit to the vet, she was diagnosed with IVDD and was recommended to do an MRI and surgery. She was prescribed prednisone and pain medication in the meantime.
Sky came to see us two days after the initial incident and at this point she had regained control of her front end, however her back end was not working. She couldn't pick herself up and she would drag. Her mom would support her with a towel under her back end so that she wouldn't tear herself up. Sky never lost her bowel and bladder control initially.
After her first visit, Sky began to regain control. Though the initial getting up part was still a little labored, she could do it and then walk close to normally without any assistance! Sky has been seen three times in the past three weeks and she has come a long way. She went from paralyzed to walking in a short period of time as the pressure on her spinal cord was released. Between chiropractic adjustments and at home exercises this girl has made a near full recovery, yay Sky! Check out her video below.
http://advanimalchiro.daveminotti.com/wp-content/uploads/2018/07/SkyZiemba.jpg
480
360
Dr. Christina Cole
http://advancedanimalchiro.daveminotti.com/wp-content/uploads/2014/09/AAC-BW.png
Dr. Christina Cole
2018-07-24 00:07:48
2019-02-02 19:44:33
Sky and her Partial Paralysis